Annual Trade Show & Expo 
Our annual Trade Show & Expo is back! Join us on Wednesday, September 21, 2022 at the Howard County Fairgrounds. See the latest in P-H-C products and innovations, and network with other industry professionals. Come for the Expo, and stay for the Bull & Oyster Roast. It's always a great time!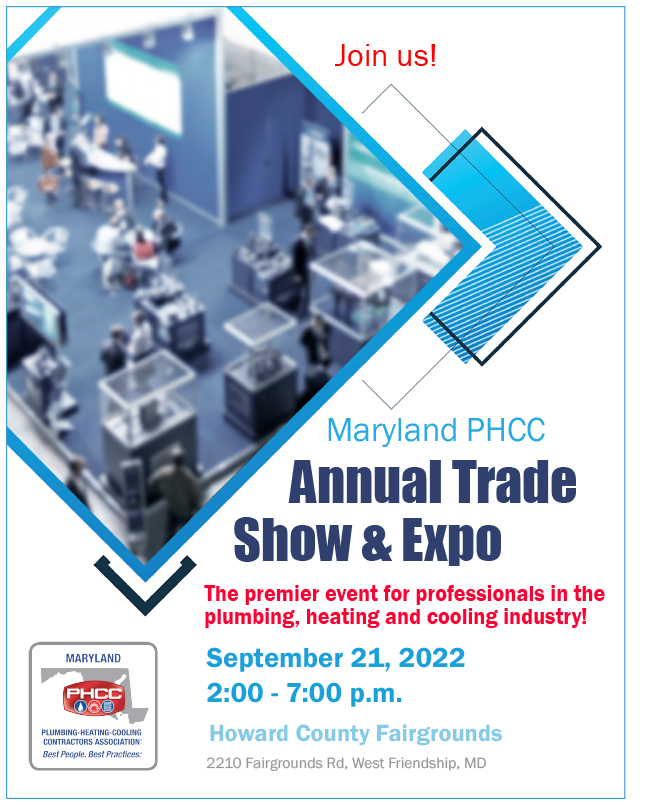 Everyone in P-H-C Industry is Invited to Attend!
Join plumbing, heating, and cooling professionals at the annual Maryland PHCC Trade Show & Expo on September 21, 2022 from 2:00 – 7:00 pm. Featuring informative seminars, product demos, new innovations in P-H-C products and services, ways to connect with industry professionals, and of course a Bull Roast! 
Trade Show Admission and Parking are FREE! 
Everyone in the Plumbing – Heating – Cooling industry is invited to attend! 
For seminar and bull roast details and registration information, email us at phccmd@aol.com or call us at 410-461-5977.
———————————–
Seminars
The following seminars will be held between 10:00 am and 4:30 pm at the Expo:
PVC & CPVC Systems
A 1 – 10:00 a.m. – Noon A-3 – 2:15 p.m. – 4:15 p.m.
Discusses material selection, installation considerations, and proper joining methods for common plumbing and mechanical applications. Attendees will learn to identify common mistakes through the visual "What's Wrong with this Picture." Attendees will receive cards documenting training from Spears.
Presenter: Lici Resch  |  Sponsor: Cathell & Associates
———————————
Efficiencies in Modern Hot Water Systems
A 2 – 12:30 p.m. – 2:00 p.m.
♦ Challenges from NEACA III
♦ Types of Efficient Water Heaters
♦ Installation Considerations
– Hybrid (Heat Pump Water Heaters)
– Condensing Gas Water Heaters
– Tankless Water Heaters
– Advantages of Using Tempering Valves
– Domestic Hot Water Recirculation
Presenter: Leroy Squires  |  Sponsor: N.H. Yates & Co.
———————————
Residential Water Heater Service
B1 – 10:00 a.m. – 11:30 a.m.
The basics of Gas and Electric Water Heater servicing.
Presenter: Mike Wentz  |  Sponsor: The Joyce Agency
———————————
Constant Pressure Systems
B2 – Noon – 1:30 p.m.
Upgrading a conventional system to a constant pressure well system.
Presenter: Mark Ball  |  Sponsor: Milby Company
———————————
PEX and Its Advantages
B3 – 2:30 p.m. – 4:00 p.m.
Attendees will learn the proper techniques for installing PEX and its advantages over other types of piping material in both residential and commercial applications. Note: Each attendee completing the seminar will be given a card showing completion of training and will then be covered under the Uponor 25 year warranty.
Presenter: Dave Becker  |  Sponsor: Uponor
---
Bull Roast
The icing on the cake each year at our Trade Show & Expo is the Bull Roast! Bring your whole team out to see the latest products, attend seminars, and get some great grub! For tickets, call us at 410-461-5977, or email phccmd@aol.com.