Open Enrollment & Skip Test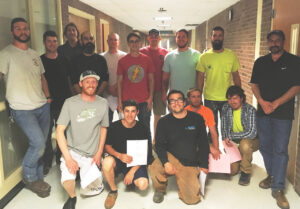 The Maryland Plumbing-Heating-Cooling Contractors Apprenticeship program is fully accredited and registered with the Maryland Apprenticeship and Training Council, Department of Labor and Industry, registration number MATC 1430.  Veterans Benefits.  The program is approved for veterans benefits as approved by the Veterans Administration.
Classes are held September through May, two evenings a week from 6:00 p.m. – 9:00 p.m., 55 sessions, 165 hours per year. Tuition includes all books and special courses. The curriculum covers Related Theory Instruction, Trade Mathematics, OSHA Construction Safety, General Safety, Adult First Aide, Adult CPR, Blue Print Reading and State Plumbing Code.  Special course training; third year apprentices attend 36 hour Journey Gas Fitters Course; fourth year apprentices attend the 32 hour Backflow Certification Course approved by the State of Maryland.  Both courses are included in our curriculum.  
TRANSFER: We accept transfer students. Students who have attended and completed an Apprenticeship Program registered with the Maryland Apprenticeship & Training Council registered in the State of Maryland may transfer their records and register to attend our program. 
TUITION:  Tuition for Maryland Plumbing-Heating-Cooling Contractor member employees includes all books and special courses including CPR Training, OSHA Safety Courses and Backflow Certification Course.  
SKIP TEST: Apprentices with 2,000 hours of documented experience working in the industry while holding a Maryland State Board of Plumbing Apprentice Certificate, are eligible to sit for the skip test. To apply, send a letter documenting the hours worked on the job signed by the Master Plumber, along with a copy of the applicants' State Apprentice certificate.  A grade of 75% or higher is required in order to skip the first year of the program.  If the applicant has 4,000 hours of experience, and passes the first year skip test with a score of 85%, he/she is eligible to take a skip test for the second year which must be passed with a score of 75% or higher. No applicant may skip more than two years. 
Deadline to register for the Skip Test August 1, 2022.
SKIP TEST:  August 12, 2023 at 10:00 a.m. at the MPHCC office located at 10176 Baltimore National Pike, Suite 205, Ellicott City, MD 21042.
Classes will be held at the following locations:
Catonsville Community College
800 S. Rolling Road
Baltimore, Maryland
Monday & Wednesday
6:00 – 9:00 p.m.                
Essex Community College
7201 Rossville Blvd.
Baltimore, MD
Tuesday & Thursday
6:00 – 9:00 p.m.                
REGISTRATION DEADLINE FOR THE 2023 FALL SEMESTER   AUGUST 31, 2023  


For additional information and applications for the apprenticeship program please contact  the Maryland PHCC office (410) 461-5977.     
How On-The-Job training and Professional Instruction Can Help You Become a Licensed Journey Plumber
Why should I start an apprenticeship program to become a plumber?
Apprenticeship combines on-the-job training with related professional instruction. In a four-year period, you complete the required 7500 hours of supervised on-the-job work experience and learn the skills and knowledge that will help you to pass the State Journey test.
How Do I Apply?
Complete the enclosed application and return it to our office along with the required documents listed on the checklist on the reverse side of this brochure.
When Do I Start Work?
First, you will be scheduled for an interview with the Maryland Plumbing-Heating-Cooling Contractors (MPHCC) Apprenticeship Council.
After your interview, your name will go into a pool of apprentices and you will be placed in the first available job opening.
The starting wage is 50% of the average Journeyperson's wage, and you will receive periodic raises while you are in the apprenticeship program. You work approximately 40 hours per week in order to complete 7500 hours within the four-year period.
Note: We are not a Job Placement Agency and, therefore, we cannot guarantee job placement.
When do I Start School?
With your sponsoring contractor's approval, you will begin related professional classroom instruction. Classes begin in September and run through April. Classes meet two evenings a week from 6:00 p.m. – 9:00 p.m.
Who Sponsors the Program?
Maryland PHCC sponsors apprentices and registers the apprentices with the Maryland Apprenticeship and Training Council (M.A.T.C.), and keeps records on attendance and on-the-job training. A Certificate of Completion will be awarded at the end of each school year if a passing grade is achieved.
Apprenticeship Application